Ensure success of Sales force operations
Omni-channel B2B eCommerce
on One Single Mobile Platform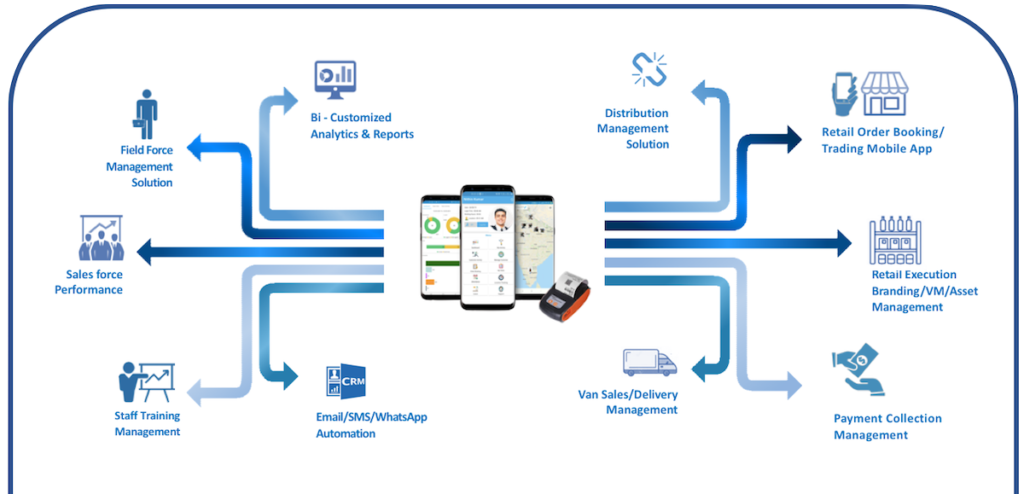 A new way of running Sales & Distribution
Empowering CPG Brands & Wholesale Distributors to quickly respond to changing market conditions with a
most advanced B2B Sales platform

Mobile First Omni-channel Solution
We have got you covered in an all in one platform,
Uniquely combing real time Orders, Payment
management, Delivery, Retail Execution

Infinitely Configurable with Ease
Solution is built on a advanced scalable Platform
Workflows, Forms, Business rules, Dashboards &
Reports are configurable to fit your needs

Achieve 40%-50% faster Return on Investment with
Intelligent sales forecasting & data visibility on Real

Don't take our word, hear it from our customers
2300+ Brands, Distributors & Wholesalers run their
sales & Distribution on Recibo

Real time Data & Insights
Get Real time tracking & Business Insights on Google
Maps, WhatsApp, Email & SMS Automation for
Instant communication of Market activities

Get 360 Degree support in Regional Languages
Integrated ticket generation system for speed and
Sales & Distribution Management
Empowering CPG brands and wholesalers to quickly respond to changing market conditions, Recibo's
flexible platform combines Sales force automation, B2B Trading & Retail execution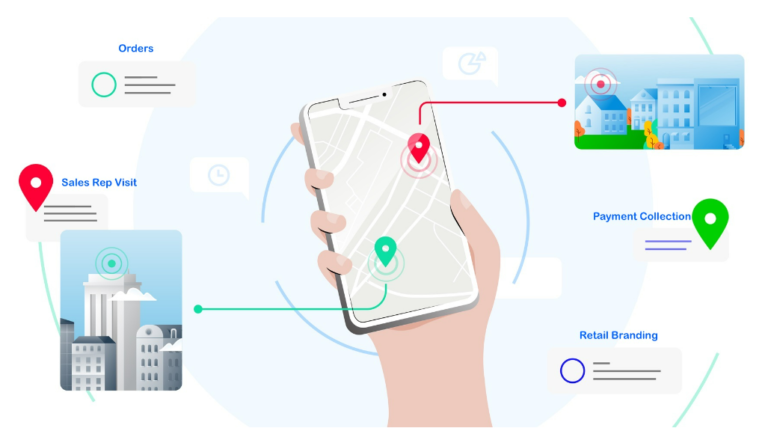 Real Time Sales Rep Tracking
Get complete visibility on Sales force productivity with Real time tracking on
Google Maps, GPS based Selfie Attendance & Route Management with
Deviation alerts. Geo tagging of Customer location with Map view
Distribution Management System
Get Real Time Orders, Manage Primary & Secondary sales, Damage/Expiry
returns, Market Collections, Schemes/Multiple pricing with Mobile first
distribution management solution.
Engage directly with retailers for Real time orders & direct communications
like schemes and new product launches. Secured & Closed transactions within
Retail Execution/Merchandising
Manage Retail Branding Execution, Field & Customer Activities, Competition
Tracking, Staff Training with time stamped Image capture & sharing
Advanced Business Analytics
Build your own Analytics & Dashboard told for in depth sales & Performance
insights. Drag & Drop data fields, Graph types, Graph Color. MIS Automation
with auto notification of Emailers on Business Insights
CRM - E Mail, SMS & WhatsApp Automation
Integrated Email, SMS & WhatsApp Automation for Greeting msgs & follow up
notifications. In App Msging & Broadcasting feature for real time
communication to Sales team & Customers
Trade Promotion/Loyalty Program
Rollout Channel Partner Loyalty Program & trade promotions on Recibo
platform & Reward basis achievement. Redemption of vouchers/Gift cards
seamlessly from the platform
Manage your Chain store Orders, Daily Sales, Opening/Closing Stock, Goods
Receipt, Flash schemes, Display audits. In store Promoter App with day
register & time spent/Shift tracking
Order Fulfillment/Delivery App
Managed secured Delivery to the stores. SMS/Email Notification/OTP based
notification. Real time Delivery tracking on Google Maps
OTP based Payment Collection with Real time notification & Tracking on
Google Maps. Secure your Cash, Cheque & Online payments with real time
Service Management/ Complaint Ticketing
Assign Customer Complaints basis Priority to Service Reps. Track complaint
closure with Time spent details on Job sheet. Real time notifications on Ticket
Asset/Product Tracking & Management
QR Code based asset management with geo tagging & tracking on Google
Maps. Identification of Counterfeit products through patented 3D printed QR
RECIBO - DIGITIZING SALES & DISTRIBUTION
Recibo is a unified Sales Force Automation, B2B ecommerce,
Distribution Management & Retail Execution solution for Brands & Wholesale Distributors.
Copyright © 2021 Recibo Technologies Pvt Ltd.
All rights reserved.
Get a free demo & hands on experience of Recibo.
Call : 8553955353